Is it retaliation (wrongful termination)? (Joanna is a Whistleblower)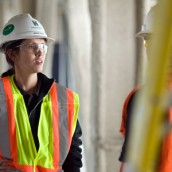 Joanna worked for a construction company. She noticed that the company was ignoring certain safety regulations on a job site. She brought it to her superiors' attention. She was fired one week later for not being a "team player." Is this a wrongful termination? should Joanna be seeking a wrongful termination lawyer?
First, remember that every situation we address on this website is intended to be in a non-union context with no "contract" in place. This is the situation for the vast majority of employees in California who work for private companies. They are "at will" employees.
Here, if Joanna can prove that the reason she was terminated was her complaints about safety, which it looks like she can, then she has a case. California has a law that states that an employee may complain about workplace safety issues without retaliation. This law is considered to have established a fundamental public policy against retaliating against employees who make these complaints. Therefore, Joanna could not be fired for making these complaints even though she is an "at will" employee.